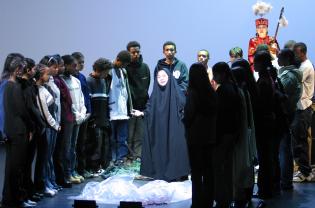 Julyana Soelistyo, Ulzhan Baibussynova and the
children in a scene from The Children of Herakles.
Photo: Richard Feldman.
The word is out, and the media machine speaks:
Features on Transom.org:
I worked the boards through the end of January at the American Repertory Theater in Cambridge with the brave and brilliant alchemist Peter Sellars. Euripides' play "The Children of Herakles" is only 24 centuries old, but it could have been written this morning about the deepest complexities of the refugee emergency in the world at this moment.