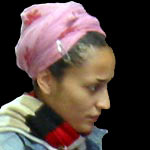 Zadie Smith
The series opens with a scorecard on global economics from Asia to Africa featuring, among others, development economist Jeffrey Sachs.
[HEAR AND READ MORE]
Chris Hedges
Clashes of oil, "evil," culture and fundamentalism. Lydon and guests take a "museum tour" of the presiding theories of global polarization.
[HEAR AND READ MORE]

Peter Sellars


Modern refugees describe the heroics of statelessness, and Peter Sellars talks about his restaging of "Children of Herakles".
[HEAR AND READ MORE]

Yo-Yo Ma


Yo-Yo Ma tells of his own search - on Asia's ancient "Silk Road" as well as in Brazil, Argentina and Africa - for the roots of musical expression.
[HEAR AND READ MORE]
Satellite feed on Tuesday, March 4, 2003; 1300-1359 ET on B72.8
Satellite feed on Tuesday, March 11, 2003; 1300-1359 ET on B72.8
Satellite feed on Tuesday, March 18, 2003; 1300-1359 ET on B72.8

Satellite feed on Tuesday, March 25, 2003; 1300-1359 ET on B72.8